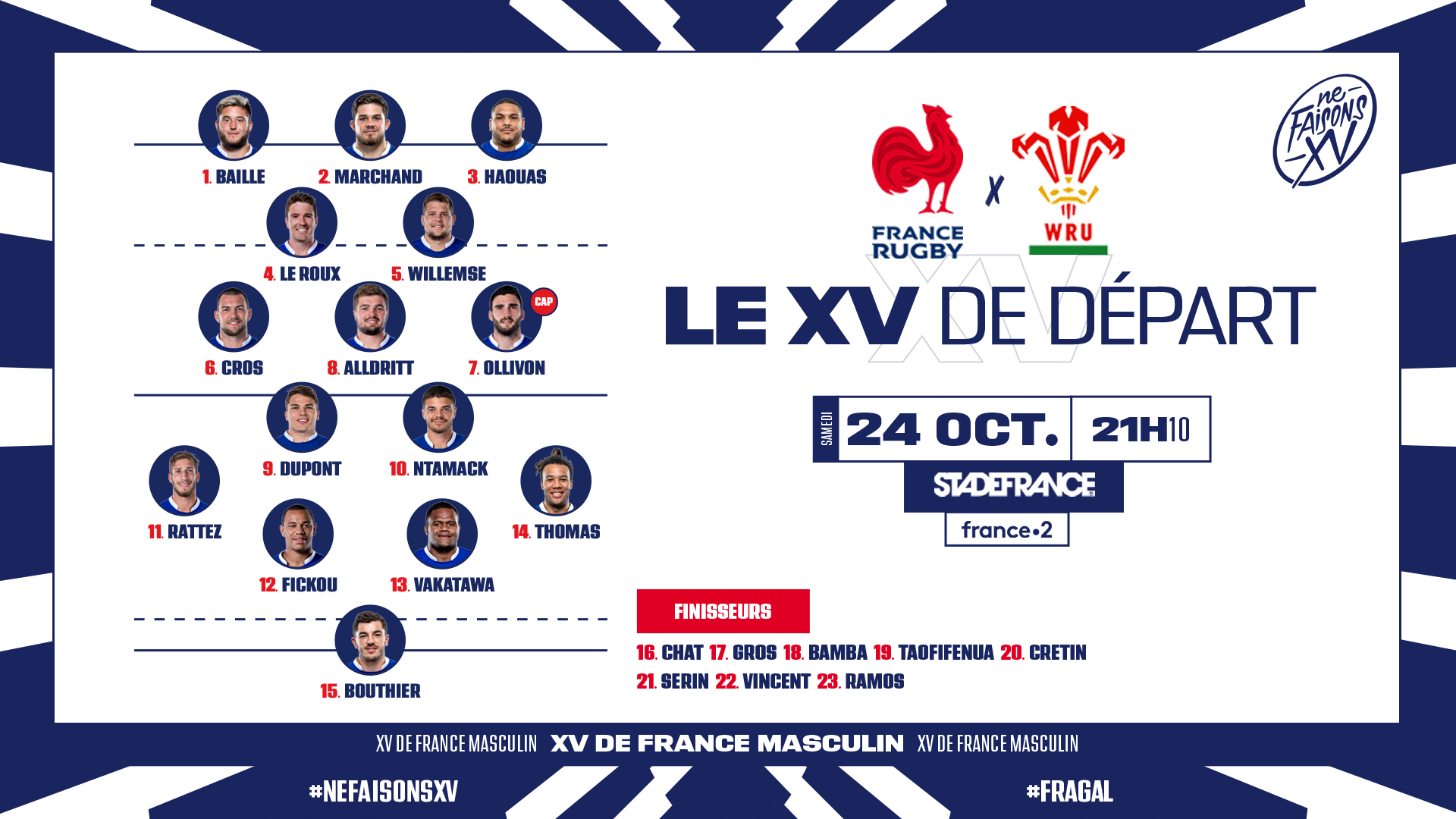 FRANCE coach Fabien Galthie opted for more of the same in his first team selection in eight months for Saturday's autumn international series curtain-raiser against Wales.
Officially, the match is a friendly, as Les Bleus prepare for their coronavirus-delayed Six Nations' showdown with Ireland at Stade de France next weekend.
But there's nothing friendly about the two coaches' selections, as Galthie's opposite number, Wayne Pivac, named an equally strong squad for the closed-door encounter in Saint-Denis. As Galthie said at the press conference to unveil his team: "It's a Test match. There are no friendly matches."
Despite a limit of three matches per player during France's extended six-game autumn bloc, Galthie has resisted the urge to go make wholesale changes.
Cyril Baille, Vincent Rattez and Teddy Thomas in for Jefferson Poirot, who has retired from internationals, the injured Damian Penaud, and Arthur Vincent, who drops to the bench are the only personnel differences from the side that started in March's defeat against Scotland.
Wales fans will note, maybe with a touch of dread, the side is very similar to the one that won at the Principality in February, with Rattez for Vincent the sole change. And it is the same starting XV that beat England in the tournament's opening round.
In comparison, there were 11 changes in Galthie's first Six Nations' selection compared to France's previous Tournament iteration under Jacques Brunel against Italy in 2019.
The biggest – indeed, only – surprise was the inclusion of Racing 92 winger Teddy Thomas in the starting XV. He has not been in the best of form for his club this season, and was left out of the squad for the Champions Cup final against Exeter.
But Galthie – whose attack coach, Laurent Labit, knows Thomas as well as anyone, having coached him at Racing – defended the decision to pick him when he spoke to reporters at Marcoussis on Thursday: "Teddy … started the [Six Nations] tournament with us, he started against England.
"He was left out of the Champions Cup final with Racing, that's true, but these are the risks – it's difficult to be a high-level player [all the time]. He had a very good week with us. When we select someone it's because of their strengths. He has convinced us this week in training, he's ready."
Continuity was a regular watchword in Galthie's repertoire throughout: "We like continuity, we set out a vision after meeting 90 players. We took the time to share the game-and-life project.
"This team that will start [on Saturday] is the same as the one that started against England, even if there are some changes on the bench. There is a need for consistency.
"When we travelled to Wales, which had more than 700 caps, the local newspapers were talking about children against men … The team must grow, that's our ambition.
"To have a successful national team, you need continuity. We capped 29 players during the [Six Nations]; 56 players [trained] with us. Moreover we've targeted 10 players who are on the way up and seem ready to join the selection.
"The French players must receive the selection as something important and we have to prepare them as well as possible because the international level is important."
Galthie has made no secret of his plan for continuous development of the France side up to the World Cup in 2023. From the outset, he has discussed his plans as France coach not in years remaining but in terms of matches to be played. Prior to the FFR-LNR agreement on player availability, he was openly hostile to plans by Top 14 clubs to limit the number of internationals their employees could play.
This is the eighth full week of preparations for the 2023 tournament, and the fifth match. By the end of the year, France will be 10 matches into what could easily become known as the Fabien Galthie project – and just about back on track after the tumult of the lockdown months.
And he has been determined to keep faith with his players as much as possible. He used just 29 in the first four matches of the Six Nations, and reports in France suggest that he intends to stick with the same formula for the first three matches of the autumn series – the friendly against Wales, the Six Nations' match against Italy and the Autumn Nations Cup game against Fiji.
If that theory proves correct, he will then have to pull up a completely new squad for France's final three games. It's likely, then, that Matthieu Jalibert and Louis Carbonel – who are both in club action this weekend – will get a short run at 10, for example, with Thomas Ramos and Anthony Bouthier providing cover there for Romain Ntamack in the first three weeks of the end-of-year international period.
Read more: Weekend Top 14 outing likely for two Bordeaux France stars after Wales training camp withdrawals
As well as Fiji, France will face Italy and Scotland in next month's Autumn Nations Cup. On Thursday, it was announced that the match against Fiji will take place in Vannes, rather than the originally scheduled Saint-Etienne, which has one of the highest rates of coronavirus infection in France.
Under current health regulations in France, the ProD2 side's ground, Stade de la Rabine, will be able to welcome 5,000 fans.